Rooms
Decor and themes were created by innkeeper and interior designer Joanne Ekeledo. Additional information can be found by visiting jpinteriordesigns.com
Each finely appointed room includes:
TV (For DVD viewing only)
DVD Player & DVD library
Private bath
Private deck

Iron and ironing board
Luggage rack
Central air and heat
One off-street parking space

Alarm clock
Hair dryer
Mexican Room
$139-$145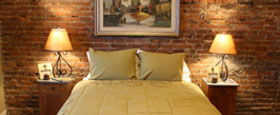 Third Floor Rear
Sleeps two, king-size bed, shower and separate heart-shaped tub.
Mi Casa Es Su Casa in this Mexican-inspired room with a private bath.
Bedroom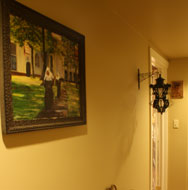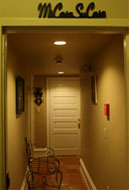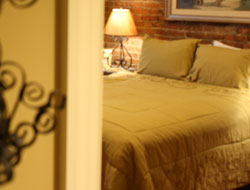 An exposed brick wall with terra cotta wall sconces illuminate the bedroom like a Mexican sunset teasing the earth with a warm gentle kiss. Handmade, sun-baked Saltillo tiles from Mexico beckon you to feel the coolness of the clay under your feet. A tribute to Frida Kahlo is expressed in the art and accessories.
Bath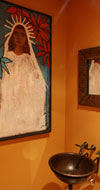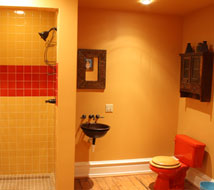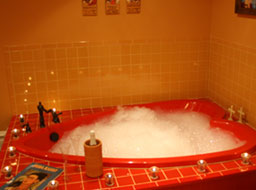 The inspiration continues in the bath with a mosaic tile of a Mexican bullfight. Vibrant red and yellow tiles adorn the oversized shower and the red heart-shaped air-jet tub accommodates two.